Welcome to Talking Tom and Friends Wiki!
---
My Talking Tom Friends is a virtual pet app that was released on 13 February 2020 in certain countries and was released globally on 11 June 2020. Read more
here
!
Latest Episode: Dude Ranch Showdown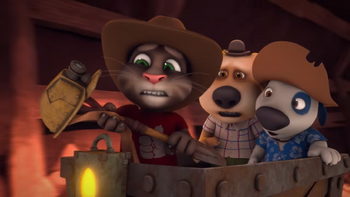 ---
Talking Tom is supposed to chaperone Talking Ginger on a trip to a dude ranch, but he gets distracted when he finds out Roy Rakoon is there, too.
About
Talking Tom and Friends is an animated web series by Outfit7 Limited, based on the media franchise of the same name. The show was produced by the Austrian animation-studio 'arx anima' during the first three seasons. In Season 4 onwards it is produced by the animation studio People Moving Pixels. It was released on YouTube on 30 April 2015. Turner Broadcasting System Europe have acquired the UK television rights to Talking Tom and Friends, and the show premiered on Boomerang UK on September 5, 2016, and on POP UK in April 2018. The second season aired on 15 June 2017, the third season aired on 10 May 2018, and the fourth season aired on May 16, 2019. The fifth season started airing from May 8, 2020.
Premise
The series follows Talking Tom and his friends' everyday lives. Tom and Ben develop mobile apps and other inventions that they try to show off to the world.
Characters
Tom (voiced by Colin Hanks), a grey tabby cat. He develops apps with Ben and prefers to be on the business side of things. Hanks describes Talking Tom as mischievous, charismatic, energetic and tries to make things; the leader of his gang who likes to have fun.
Reception
Talking Tom and Friends won Best Animated Series at the 2016 Cablefax Awards. This announcement greenlit Season 2 of the series, to premiere on 15 June 2017.
Pages You Should Check Out!
-
Other Languages