Where's that other one of you?
---
This article is about the franchise. You may be looking for
the series
.
Talking Tom and Friends (known as Talking Friends until late 2014) is a media franchise created and owned by Outfit7. The franchise focuses on various mobile apps involving anthropomorphic animal characters repeating things said by the user. The first app, Talking Tom Cat, launched on 26th June 2010. As of June 2020, the apps have achieved more than 13 billion downloads.
History
I feel like we're forgetting something...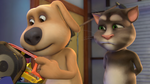 ---
This article is missing history information. You can help the
Talking Tom and Friends Wiki
by adding it.
After the company was founded in 2009, Outfit7 released their first apps from February to May 2010. However, none of these apps were a success. So Outfit7 decided to make a new app, Samo Login didn't think it was a good idea to make a game because there was too much competition so they decided to make an app that was not directly a game. So they went off and found a grey cat model for ninety dollars on a website called Turbosquid.[1] So Samo Login bought him and named him Talking Tom and handed him over to the developers, who created a set number of animations, coded the voice talk-back, and published the app in June 2010. Within the first 13 days, one million people downloaded the app. It was so successful that they went on a hunt to find the anonymous designer who created the cat model. After almost two months of searching, They found their man, Andrey Kravchenko, in Ukraine, and brought him into the company.[2] In this app, Tom was like a virtual pet. Tom is a virtual pet cat that responds to your touch and repeats everything you say with a funny voice. You can pet him, poke and punch him or grab his tail. Talking Baby Hippo and Talking Larry the Bird were released the following month, and then the month after Talking Harry the Hedgehog was released, then Talking Rex the Dinosaur, Talking Roby the Robot, Talking Santa, and Talking Bacteria. On February 19, 2011, Talking Gina the Giraffe was released, with Talking Lila the Fairy releasing the following month. Gina was the most popular of the other Talking Friends since it was more like a virtual pet with you having to feed and play with it to increase its happiness meter. These apps shared the same basic features as Talking Tom Cat. These apps were clearly a success, with Talking Santa appearing on NBC's The Today Show in December 2010, Talking Tom Cat appearing on ABC's Modern Family in January, Talking Tom Cat becoming the #1 free app on the app store aside from Facebook and Skype by February and Outfit7 hitting 100M downloads with Talking Friends apps on April 28, 2011.[3] The very next day, Talking Ben the Dog was released. You can talk to Ben, poke or tickle him or even have a telephone conversation with him. You can also do chemistry experiments in his lab. Talking Tom Cat 2 released a month later with Tom having a redesign and him being in an apartment. You could also now dress Tom up. By this time Outfit7 wanted to turn their characters into Saturday morning cartoons. Talking Tom and Ben News released on October 15, 2011. In the app Talking Tom and Ben have become famous TV news anchors! You can talk to them and they will repeat what you say in turns. Talking Pierre the Parrot released on November 29, 2011. When you talk to Pierre, he doesn't just repeat your words, he remembers what you said previously and repeats it later at random. Talking Santa meets Ginger released by the end of 2011, introducing Tom's nephew Ginger. Outfit7 ended the year with 270M downloads, and big plans around merchandising. Tom's Love Letters released on January 28, 2012, introducing Tom's girlfriend Angela. In this app, you can send Valentine's Day cards featuring Talking Tom and Angela to your loved ones. Tom Messenger released in May of 2012, where you can send video messages to your friends and family as one of the Talking Friends characters. Tom Loves Angela released on June 6, 2012, where Tom tries to woo Angela by repeating your words to her, singing a song, giving her gifts, or using the chat feature to talk to her. In Summer of 2012. Outfit7 collaborated with Disney to make a 10-episode Talking Friends miniseries on YouTube starring 6 of the many Talking Friends: Tom, Ben, Pierre, Ginger, Gina, and later Angela. These episodes are now one of the most viewed videos on the Disney YouTube channel. with Angela's debut episode, "Rock the Catsbah", being the most viewed video on Disney's YouTube channel, getting over 100M views. A music video for a Talking Friends song called "You Get Me" released on June 12, 2012, getting over 350M views.  
Characters
Defunct Characters
Games
Web Series
Trivia
References
Community content is available under
CC-BY-SA
unless otherwise noted.