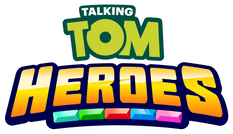 Talking Tom Heroes is an animated series by Outfit7. It premiered on April 26, 2019 on its own channel (Talking Ginger's original channel) and on May 15, 2019 on ABC Broadcast Channel. In the summer of 2019, the Russian TV channel "Karusel" showed all the episodes in the series (even those that had not been released on the Talking Tom Heroes YouTube channel at the time). These episodes can be found on Russian sites, such as "Butya Butya."
Description
Get ready for an epic new adventure with your favourite friends! Talking Tom Heroes! With the help of mysterious crystals, Talking Tom and friends gain incredible powers! With Tom's super strength, Angela's amazing vision and speed, Ben's magnetic glove, Hank's backpack full of surprises and the help of young Ginger. They're up to any challenge but their greatest superpower is their friendship. Together, they'll bravely fight the bad guys, defend nature and protect the city. They will never give up!
Episodes
Giant Bubble Trouble
The Missing Hero Crystal
Attack of The Garbage Monster
Celebrity Trap
The Curse Of The Pyramid
Mad Car
The Lonely Yeti
Stop The Slime!
Boat Race Sabotage
The Hungry Vacuum Cleaner
Sugar Tornado Alert
Power Thief
Invasion of the Moles
Ultra Eating Championship
The Little Turtle
The Jealous Pumpkin
Haunted Toy House
Hank the Robber
The Sad Clown
Mission Toothache
Angela's Evil Twin
Mysterious Backpack World
Holiday Hero Training
The Shadows
The Super Ballerina
The Angry Hero
Robber on the Train!
Ginger the Special Agent
The Big Bubble Fight in the Laundry
Frozen Friendship
The Labyrinth Mystery
Lazy Heroes
Talking Tom Fights the Giant Crab
Baby Potion
The Pearl Robber and a Shark
Broken Power Crystal
New Hero on the Block
Rainbow Color Rampage
Revenge of the Garbage Monster
Pancakes and Dinosaurs
Stinky Angela
The Sneaky Witch
Smoggy Monster
Squirrel Transformer
Hank's Superpower Swap
Super-Photographer
Candy Robber Chase
Teeny Tiny Heroes
Bandits United
[[Friendship Is A Super Power
Characters
Community content is available under
CC-BY-SA
unless otherwise noted.