Bongo and McGillicuddy is a show in Talking Tom and Friends.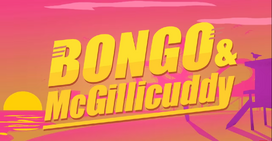 Characters
Edit
Doctor Technology
Doctor Jerk Face
The Tickler
Chief Buzzcut
Hank (only in the finale of Season 16)
Random Cop
Episodes with major roles
Edit
Bongo and Magillicuddy first plays a major role in Hank the Director, where Hank records a fan fiction episode of Bongo and Magillicuddy. They also star in the episode Bye, Bye, Bongo, where they have to stop Doctor Technology from stealing the Inter-dimensional TV Transporter.
List of episodes with major roles
Edit
Bongo and Magillicuddy is shown to have a large fanbase, as many individuals in the city are seen wearing Bongo and Magillicuddy merchandise. Hank is a huge fan of the show, and he even made a Bongo and Magillicuddy episode and an unofficial fan guide.
Known fans
Edit
Known episodes
Edit
This is a list of Bongo and Magillicuddy episodes mentioned in Talking Tom and Friends. All names of episodes are linked to the Talking Tom and Friends episode in which they were mentioned.
This list is based on the fact that Hank said in Bye, Bye, Bongo to Doctor Technology that his teeth are more yellow than in seasons four, six, and fifteen. Since Doctor Technology is probably the main antagonist of the series, as he is called Bongo and Magillicuddy's "greatest foe" by Hank, we can assume that there are sixteen seasons, as he might not have appeared in the last season due to him being stuck in jail during that time.
Season 1
Season 2
Season 3
Season 4
Season 5
Season 6
Season 7
Season 8
Season 9
Season 10
Season 11
Season 12
Season 13
Season 14
Season 15
Season 16